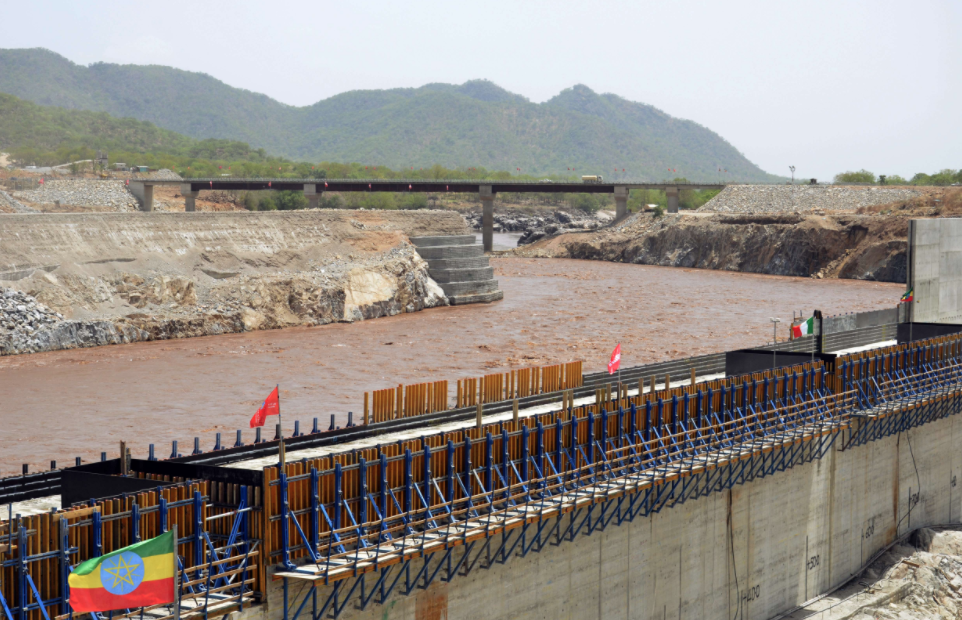 Economics and the Environment
The dominant story in the global news this week was Trump's decision to recognise Jerusalem as the capital of Israel. Although this may have only been front page news for a day in Western countries, the coverage in Middle Eastern outlets is extensive. This has had a huge effect on the people in the region.
I started out my research looking at my favourite publication which is based in the Middle East – Mada Masr. It was created by former journalists of Egypt Independent when the editorial department was shut down during the military coup of 2013. It helps me to gauge which local issues are important in the region, which contrasts with how the Middle East is portrayed in Western press.
Although I was looking for alternative news stories about Jerusalem, I actually found articles about the ongoing dispute between Egypt & Ethiopia concerning the building of the Grand Ethiopian Renaissance Dam in the Nile. This has repercussions for the environment and the local communities. I was also curious about how other local environmental concerns were being communicated around the world, and I also found some articles about cleaning up Fukushima – the nuclear explosion that happened in Japan in 2011.
These environmental stories are local and therefore don't reach our news unless we look for them. But they provide great insight in how other cultures view their environment. Hopefully you get something out of them.
Egypt-Ethiopia tensions over new dam rise again
"Ethiopia is pushing on with construction of its massive new dam, despite growing objections from Egypt.
Egypt has long held the majority rights to the Nile and relies almost entirely on the river for its water needs.
"Construction has never stopped, and will never stop, until the project is completed […] We are not concerned by what Egypt thinks – Ethiopia is committed to benefiting from its water resources without causing harm to anyone," Ethiopia's Minister of Irrigation, Water and Electricity, Seleshi Bekele, said.
Once completed, The Grand Ethiopian Renaissance Dam (GERD) will be Africa's largest hydroelectric power plant and will help solve a national energy crisis in Ethiopia."
Egyptian media pundits still debate the validity of Ethiopia's dam, ignoring wider issues of water scarcity
"But instead of assessing the country's water consumption, thinking of ways to limit waste and securing alternative sources of clean water, Egyptian officials have been busy pushing for further studies on the dam, which is already 63 percent complete.
Egypt understandably wants to maintain some degree of economic advantage over its African neighbours, but further negotiations over its historically large water share and the GERD may also mean officials need to be prepared to discuss a long list of incompetencies and issues they are either not willing to debate, or don't have solutions to, such as: population growth, pollution, inefficient irrigation and the lack of proper treatment plants countrywide. Government officials need to consider the dam issue not just as one of resources, but as a matter of managing those resources."
Fairly harnessing common resources
"The dam is … taking into account international laws and equitable utilization of common resources. True to its name the grand dam epitomizes Ethiopia's Renaissance. Ethiopia wants to make a leap from agriculture-led economy to an industry-driven one. As such it needs it badly. Here it is important to note that the per capita income of Ethiopians is 800 USD while that of Egypt is 3514 USD.
…
Ethiopians today have embarked on a historic chapter that narrates bequeathing poverty-unshackled country to the coming generation. That is why Ethiopians have placed focus on GERD to discharge historic responsibilities. Till the dam sees the day's light, Ethiopians will work day and night."
Risky stalemate as science battles human fears at Fukushima
"The amount of radioactive water at Fukushima is still growing, by 150 tons a day and the country desperately needs to figure out what to do with it.
Packaged fish sold at supermarkets carry official "safe" stickers. … To pass, the fish must meet what is believed to be the world's most stringent requirement: the radioactive cesium level has to be less than half that allowed under Japan's national standard and one-twelfth of the US or EU limit, said Yoshiharu Nemoto, a senior researcher at the Onahama testing station.
That message isn't reaching consumers. A survey by Japan's Consumer Agency in October found that nearly half of Japanese people weren't aware of the tests, and that consumers are more likely to focus on alarming information about possible health impacts in extreme cases, rather than facts about radiation and safety standards."
Levels of radiation in food post-Fukushima disaster
"Japanese Mothers Find High Levels of Radiation in Food Post-Fukushima Disaster
The "Mothers' Radiation Lab" in Iwaki City, Fukushima Prefecture is staffed by local mothers who test foods, water, soil and other local materials for nuclear radiation.
In the aftermath of the 9.1-magnitude earthquake and tsunami that caused the nuclear power plant in Fukushima to leak radioactive materials, a group of Japanese mothers work to ensure local food is safe to eat. Despite lacking a scientific background or university education, they are passionate about keeping the public informed."
Watch on Link TV
(6 minutes, well worth a watch)
Message from the Editor
A quick reminder that we also offer Whatsapp notifications – to sign up please visit here.