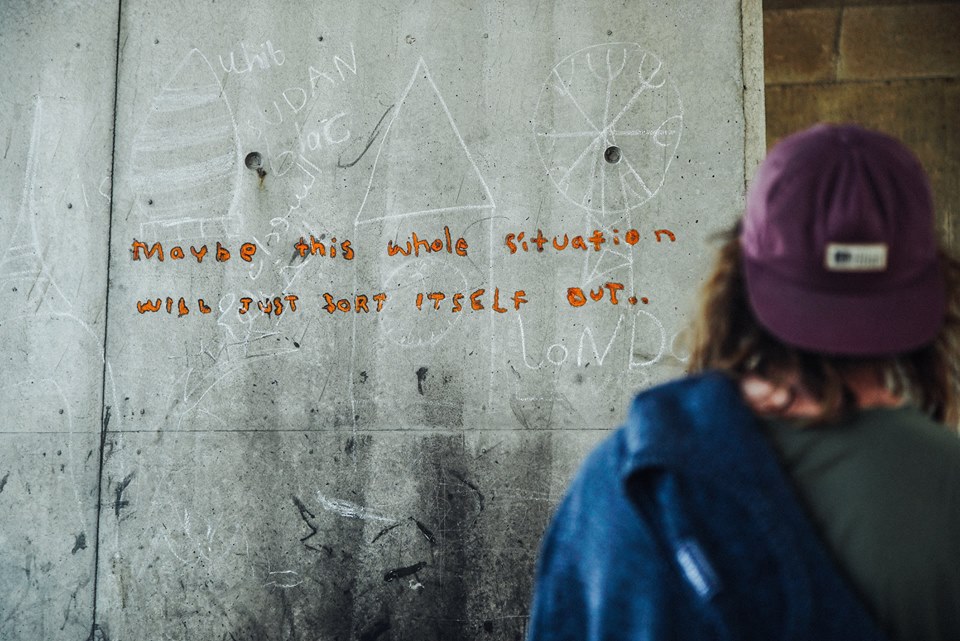 Human Rights violations at the hands of Europeans
You will have heard about the Calais Jungle. Up to 10,000 migrants camped in a makeshift shanty town by the English Channel.
Although migrants have stationed there since the 90s, the influx of refugees to Europe last summer has seen the camp balloon in size. A census put the number of refugees there at 9,106 in August 2016. 865 were children and 78% were unaccompanied.
You will have seen the headlines. However, it's difficult to get a true idea of what life is like for these refugees.
British and French press tend to paint us as the heroes; focussing on the stories of volunteers who give out food, or they dehumanise the refugees; report their violence, their squalor and their dirt. Other international press is passively neutral; they recognise the colossal problem in Europe, and try not to get involved.
This week The Echo Chamber Club wants to try and understand the situation from the migrants' point of view. Why do they put up with the Jungle conditions? Why are they so intent on coming to the UK? How are Europeans making their situation worse?
Jaz O'Hara; Founder of The Worldwide Tribe who tirelessly work to end human rights abuses against refugees around the world. Jaz helped put this newsletter together and many of the articles featured in this newsletter come from The Worldwide Tribe. You can donate to help refugees here.
Why are refugees so intent on refuge in the UK?
"The vast majority of people ARE staying in their neighbouring countries, in the hope that they will return home soon. When we visited Za'atari Camp in Jordan, right on the border of Syrian, we learnt that 80,000 Syrian refugees live there."
Why would someone prefer to come to the UK rather than stay on the continent? The main reason is they have family in the UK, the second is they already speak the language.
The third is shocking. The violence many experience at the hands of continental police is brutal. Similar assaults have not been reported in the UK (presumably because we have fewer refugees).
Our processes for admitting refugees is also more humane – people believe they can start a new life here – French bureaucracy is harder to navigate.
Police take shoes from refugees so they can't leave the Jungle
He said: "They took shoes off seven of us when we were in the port. They said go to the Jungle. They forced us, we said 'no, no, why are you taking our shoes?' But when they came near us, we thought they were going to kick us.
"I don't know why they did it. It took me one and a half hours to walk to the Jungle bare foot. Shoes are important here. How can you go without shoes? My friend has given me some – some people in the camp have extra. But if I didn't have friends here I'd be walking around the jungle for two or three days without shoes."
Police shut down 'restaurants' and soup kitchens for "health and safety reasons"
"Then today, literally just now, we watched as a wall of riot police descended on the whole area and raided multiple restaurants including Welcome Restaurant and the Kids Restaurant. They bagged up donated food and arrested all the restaurant owners, including Sikander, who was taken away in a police van like a criminal.
"SIKANDER IS FEEDING UNACCOMPANIED CHILDREN, he has given up his own life for the future of others, young victims of war…and he has just been arrested for doing so."
Sanitised bottled water is taken from refugees and drank in front of them
"It was pretty hot again today, so as the police confiscated more food and drink from refugees in the Calais Jungle, they opened up bottles of water they had taken, and drunk from them, right in front of the refugees who they belonged to.
Not only did they take food from inside pans and stock from the shelves of the shops (for not complying with 'health and safety'), they also took important personal belongings like mobile phones and documents. They told a few of our friends that they could have them back after a court case [in three months].
They also took over $1000 euros from another one of our friends."
Unaccompanied children regularly go missing
"The camp's worse than a shanty town in Rio or Africa – it's an affront to humanity. You've got 10,000 people living in the most appalling squalor, there's no running water or sanitation, people traffickers roam free, feasting on the dreams people have of a better life when all they sell is broken promises and a life of modern slavery."
More than a hundred children unaccounted for in March
[From March 16] "More than a hundred unaccompanied children have gone missing since the southern section of the Calais Jungle was demolished last month.
According to a census by Help Refugees UK, 129 unaccompanied minors from the camp have gone unaccounted for."
What happens now for the old residents of the Calais Jungle?
"All week, as people were expected to queue for hours, to 'register' and get on buses…the lack of information and understanding was so evident. So many people told me that they were scared because they didn't know what registering would mean….they didn't know where the buses were going, and they didn't know what would happen to them at the other end.
Many are worried about being deported. People say that France is a safe country, but if France is more likely to deport you back to your own country, where you could face imminent death…what's safe about that?"
What is The Echo Chamber Club?
The Echo Chamber sends a weekly newsletter with views that counter the traditional metropolitan view. A different topic is discussed every week in science, medicine, conflict, politics, philosophy or ethics. We don't send any spam. Sign up and join hundreds of metropolitans today!