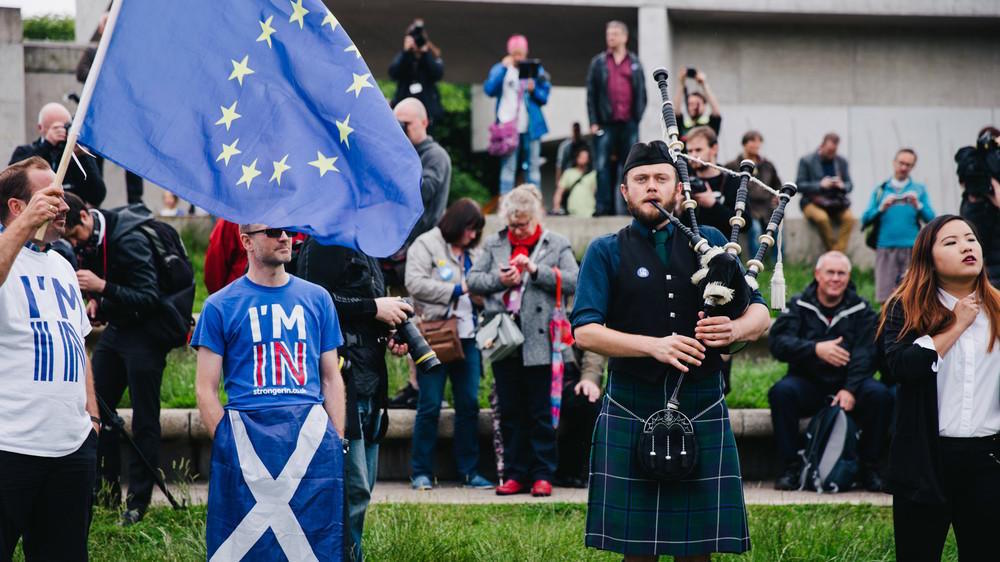 Should Scotland stay or should it go?
With the sweeping success of the Article 50 Bill on Wednesday, the question of Scottish independence looms large once more. After the surprise Brexit result on June 23rd, Scottish Nationalist Party and Scottish Assembly leader, Nicola Sturgeon called for a second independence referendum, branding it "all but inevitable". Fellow SNP stalwart, Alex Salmond called for a new referendum as early as August 2018. Given the huge numbers of SNP MPs, many outside of Scotland may believe this opinion represents the whole country – I'd like to provide another view.
As a young Scottish liberal who had voted against both independence and Brexit, June 24th was a grim day: Edinburgh was full of shocked silence; online there was fury and disbelief. As part of the fallout, the cry for "Indyref2" was taken up by friends who had been staunch 'pro-UK' voters in 2014.
It certainly felt a fair reaction: 62% of Scots voted to Remain. What then to do when our Southern neighbours outweighed the will of Scotland's majority? This was emphasised last week with the exclusion of Scottish Parliament from Brexit proceedings and all but one Scottish MPs voting against Article 50 – rendered irrelevant by England's size. So is the second independence referendum that looked inevitable on June 24th going to happen?
I would say no. After seven months spectating the messy, over-hyped and under-prepared divorce of Britain and Europe, public opinion in Scotland is shifting slowly further away from independence, even as the SNP's support grows at Labour's expense. Many who called for independence in June later decided that the reasons to stay in Britain still outweigh the reasons to leave.
Why I hope for unity
While the coming years will most likely see the SNP's support grow in Scotland, support for the SNP does not always translate into support for independence. Even with the pound hitting new lows, the costs and complications of leaving Britain and applying to join Europe have not gone away; we are unlikely to see another referendum.
[Andrew Page's] predictions for 2017
"Nicola Sturgeon will continue to command high approval ratings. However, it is obvious that this does not translate into support for a second independence referendum and her Brexit strategy changes accordingly (indeed, it already is). Sturgeon proves herself to be adept at adjusting quickly to rapidly changing political realities, creating significant difficulties for Theresa May in the process.
May might think she's laid down the rules, but Sturgeon makes it very clear she has no intention of obeying them."
Scottish Labour will never support second referendum
"As Jeremy Corbyn said when he was in Glasgow earlier this month, Scottish independence would lead to "turbo-charged austerity"…
"The reality is there is a £15 billion difference between what Scotland raises in tax and what we spend on public services. That's a black hole that would cause further austerity in an independent Scotland…
"Last week, new export figures revealed the value of the UK single market is four times more important to Scottish trade than the EU single market. So while I will continue to argue that Brexit is bad for Scotland's economy, the SNP government's own figures show that independence would be considerably worse."
Can we trust the SNP?
The SNP bears a charmed reputation: both Nationalist and Progressive, they are in their third term as Scottish Government, including one term so popular they held the majority in a system designed for minority government. But are they the progressive party they package themselves to be?
Mixed Messages
"[Sturgeon] went so far as to threaten Indyref2 if a soft Brexit was not delivered "and I'm not bluffing". But she was. As soon as polling showed that 61% of Scots opposed Indyref2 this year, and that 55% of Scots still opposed independence, she performed a reverse ferret, and announced that there would be no Indyref2 in 2017."
Indyref2 completely irresponsible
"Memories of the "divisiveness and toxicity" of the 2014 referendum campaign mean that most Scots do not currently support staging another vote on the issue. Ms Davidson will say: "The SNP is, as usual, trying to seize on a moment of doubt and uncertainty to declare that the shining star of independence is the answer.""
My fears for the future
The referendums of 2014 and 2016 both came down to a minority of undecided voters. In 2014 undecided Scots could identify with their fellow citizens in England's north and cities, more than with the optimistic vision offered by the SNP. After 2016 many pro-UK voters feel betrayed by the England they voted to stay connected to.
Brexit, trident and the death of Britain
"The entity can't be England it must be Britain. To define and acknowledge England means to define and acknowledge Scotland and Ireland and Wales. That's intolerable. This must not be allowed to happen. England is unthinkable even for English nationalists.
Britain is too big to fail.
So here we are hurtling backwards."
In conclusion
If there were a clean and immediate avenue for Scotland to remain part of the EU at the cost of leaving Britain, perhaps the Scots would take it, unable to relate to the blue England of the City and the South, and feeling betrayed by the North. In such a referendum I would have to vote – with my head, if not my heart – to remain in the Union. However, with no such offer forthcoming from Europe, the SNP's hopes rest on the passage of time and the slow pendulum swing of public opinion.
But even if the Union holds, Brexit has driven a wedge between Scotland and England that will take time to heal.