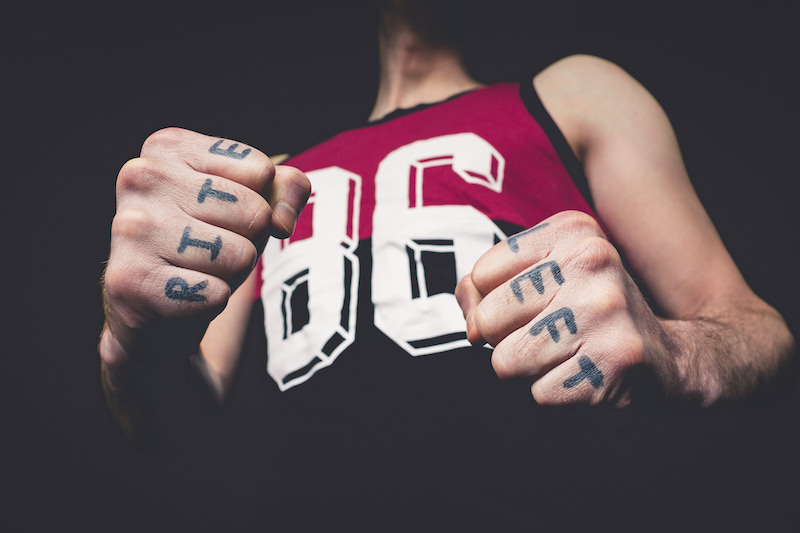 Two(+) Sides to Every Story
More and more people are entrenched in their point of view without knowing what would cause them to change their mind. "Evidence" like videos and photographs, still have persuasive power when it comes to topics where people are yet to make up their mind – like the burkini – but cause little re-examination of rooted beliefs.
This is true of political party allegiances as well as specific issues. Despite leadership and policy changes, we are unlikely to vote differently or see things from a different point of view.
For this newsletter, we're taking one well-known Corbyn story, as well as a less publicised Labour story, and we show how different groups have reacted. We may not change your mind, but we want to make it easy to understand why some people believe differently.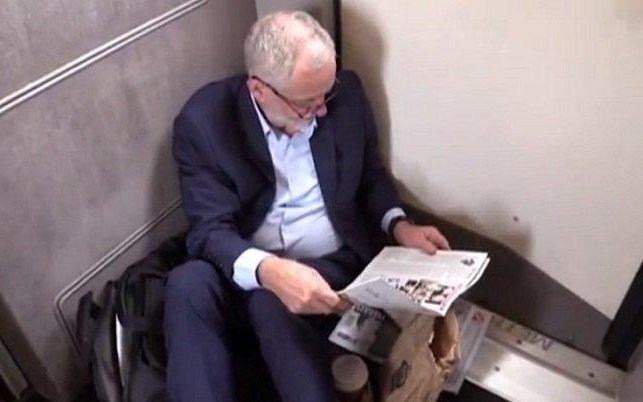 A now infamous event. As a protest against the privatisation of the railways, Jeremy Corbyn released a video of him having to sit on the floor of a Virgin train, as there were no other seats available.
As many commuters know, you are unlikely to commute in comfort on a train.
Later, Richard Branson released CCTV footage showing Corbyn walking past empty seats.
Now, the conversation concerns Corbyn's less than perfect character. He is now just like any other manipulative politician. The issue of poor customer service on railways is largely forgotten.
If you dislike Corbyn or are on the fence…
You believe Traingate categorically shows his incapability as a leader. It has made Corbyn into a national joke, as he has been shown to be a hypocrite.
"By a margin of nearly three to one, voters believe Virgin trains over Jeremy Corbyn"
And if you are a Corbyn supporter…
Traingate is further proof of establishment bias against Jeremy Corbyn. You believe the video produced by Richard Branson was clearly to protect his own interests as the owner of a private rail firm. You also believe the empty seats were filled with children, so Corbyn was right all along.
"A closer study of the CCTV footage released by Virgin itself – which supposedly shows Corbyn walking by 'empty' seats – actually confirms the Corbyn team's claims that they were occupied by children or reserved with luggage."
Increased Death Threats to Labour MPs
It's Corbyn's supporters fault
Bristol West MP, Thangam Debbonaire, received a death threat on Twitter after Jo Cox' death. It was traced back to a Corbyn supporter.
"The university then launched an investigation into the tweet, sent in July. Student Verity Phillips, who also tweeted messages of support to Labour leader Jeremy Corbyn, later sent a written apology to the Bristol West MP., the Bristol Post reported."
It's Jeremy Corbyn's fault
"In July, more than 40 female Labour MPs signed a letter calling on Jeremy Corbyn to do more about what they called "an extremely worrying trend of escalating abuse and hostility"…
It is unacceptable for his non-interventionist stance to extend to how he handles misogyny in his party. Inaction in this context is action that favours the abuser."
It's nothing to do with Corbyn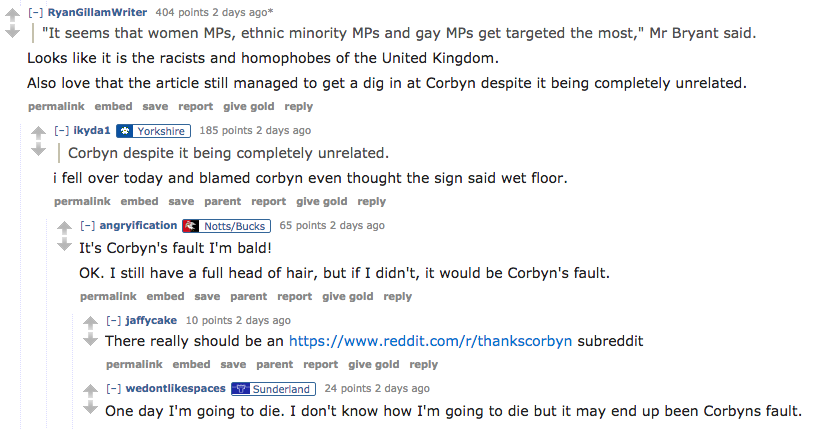 This Redditor wrote…
"Jesus what else is corbyn meant to do? It's not as if he can do anything to stop it. He's said time and time again that he absolutely condemns the cyber bullying. Corbyn should just out right ask them "What am I meant to do?"
Another wrote…
"I'm probably just gonna vote corbyn as a throwaway protest vote" [against the media]
It's Britain First / The Alt Right / Other Conservative
Given the attacks are predominantly against Labour MPs, many may blame the far right.
"A man who fatally attacked and shot Labour MP Jo Cox outside her constituency office reportedly shouted "Britain First"."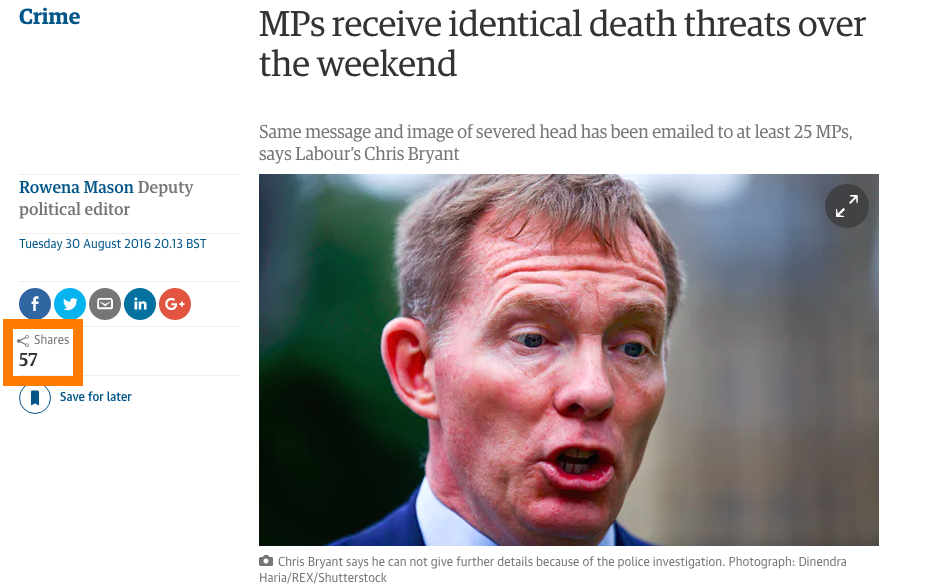 Most haven't seen the story, or if they did, then it doesn't seem to be worth discussing or sharing. The above screenshot was taken 48 hours after this story broke – instead of garnering hundreds or thousands of shares, a mere 57 Guardian readers thought to pass it on.
We rely on politicians to make critical decisions about the future of the country. If death threats become the norm, it makes it difficult for MPs to make decisions vital for the future of the country.
What is The Echo Chamber?
The Echo Chamber sends a weekly newsletter with views that are not discussed on metropolitan social media feeds. We take on a different topic every week and send to our hundreds of subscribers. We don't send any spam. Sign up today!